Our Story
How we met....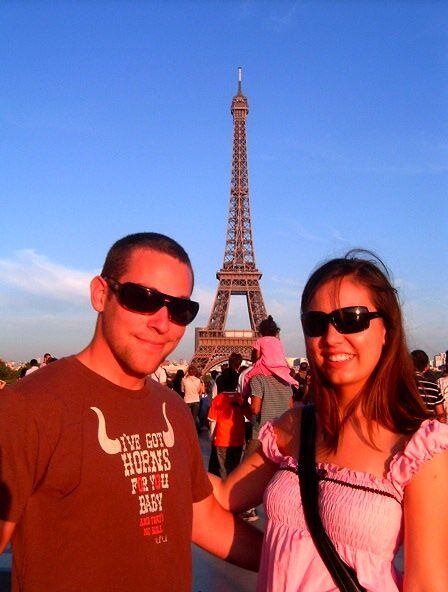 We met at the Cal State Long Beach Associated Students, Inc. (student government) retreat in August 2006, although for some odd reason, neither one of us remember the actual moment we met during this retreat! It wasn't until late April 2007 that we were in the student government office together, and Joey started talking to me. He told me that I was a "very beautiful girl." He later sent me a Facebook message asking me to accompany him to the Dean of Students' (Dr. Hostetler) Ethics Luncheon. We planned to meet up later that evening at a party to celebrate the 30th anniversary of The Union Weekly (a student newspaper at CSULB). I had to attend a scholarship dinner that evening so unfortunately, I missed him at The Union's anniversary celebration. However, he texted me the next day, and so our relationship began! The rest of the semester was spent going to the movies (our first "real" date was going to Cinemark at the Pike in Long Beach to see Spiderman followed by Mexican food from SuperMex), hanging out at the beach, and prepping for finals (ugh!). Once school was out for the summer, we were inseparable until I went to Paris to study at the Sorbonne for a summer semester. Joey had just finished his undergraduate degree and had already planned a backpacking trip throughout Europe. We met up in Paris, and we fell in love as we frolicked around the streets of the City of Light for a few weeks. The rest is history....

We both finished up our degrees at Cal State Long Beach in 2009 (Joey with his MA in Political Science and me with my BA in Recreation, Tourism, and Hospitality) and moved into adult life together. After over nine years of being together, traveling the world, purchasing a condo, adopting a doggie, starting our careers, and surviving a year of a long-distance relationship when Joey was in San Francisco, we finally got engaged!
The proposal...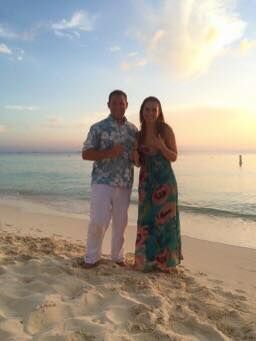 We went to the Cayman Islands for Joey's 30th birthday from August 15-23, 2015. It was a wonderful trip filled with good food, boat drinks, sunshine, an adventure to Stringray City, and snorkeling. Towards the middle-end of the trip, Joey told me that he had reservations at the Ritz Carlton Cayman Islands. We walked from the Marriott about a mile on Seven Mile Beach and had our own private cabana at the Ritz Carlton for the evening. Joey proposed at the beginning of the evening (6:32pm to be exact!), and we spent the rest of the night celebrating by taking pictures as the sun set, drinking champagne, noshing on steak-frites and fresh fish, smoking a cigar (okay, mostly Joey!), and even letting go of a wishing lantern into the starry night sky (a surprise to both of us...arranged by the wonderful staff at the Ritz Carlton). It truly was a magical experience for both of us!
The Wedding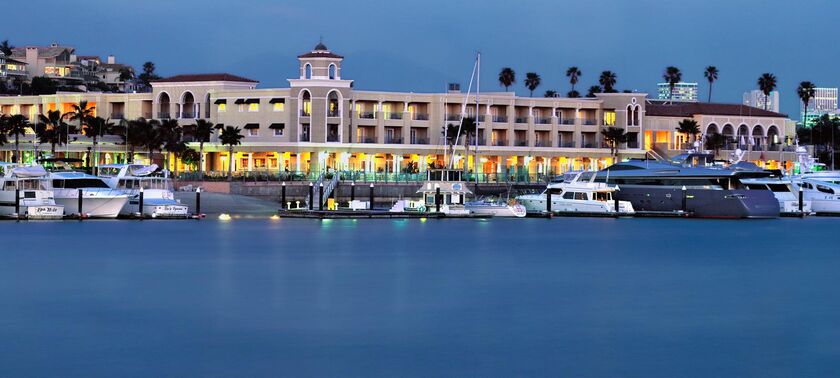 Saturday, April 29, 2017
5:30 PM
Attire: Black Tie Optional
Ceremony and Reception
Balboa Bay Resort
1221 West Coast Hwy, Newport Beach, CA 92663, USA
• Adults only please.
• If you use Instagram, Facebook, or Twitter to post updates and pictures related to our wedding, kindly use #newlywEdwards2017 to help us capture our special day.
• Please note that the ceremony space is outside and has lots of grass so please keep that in mind when choosing footwear. The reception space has indoor and outdoor areas and has both hard floors and carpeting.
• Spring evenings can get chilly along the California coast. Please consider bringing a light sweater or jacket.
Other Events
Welcome Party

Friday, April 28, 2017
7:30 PM
A&O Kitchen + Bar
1221 West Coast Hwy, Newport Beach, CA 92663, USA
Start the weekend off right by grabbing a drink and some light bites with the Bride & Groom in the gastropub at Balboa Bay Resort! We will be there from 7:30pm to 9:30pm. Please note this is a no host event. Valet parking is complimentary with validation.

After-Party!

Saturday, April 29, 2017
11:00 PM
A&O Kitchen + Bar
1221 West Coast Hwy, Newport Beach, CA 92663, USA
For those of you that want to join us for more celebrating after the wedding, please join us in the gastropub at Balboa Bay Resort. It's the perfect place for us to continue the party, and it's convenient!

Day-After Brunch

Sunday, April 30, 2017
11:00 AM
Waterline
1221 West Coast Hwy, Newport Beach, CA 92663, USA
For those of you who would like a little more time with the Bride & Groom, we will be in the restaurant at Balboa Bay Resort for Sunday brunch before everyone goes home. It will not be hosted, but the restaurant serves up a wonderful brunch that includes bottomless mimosas! Valet parking is complimentary with validation.
Wedding Party
Nikki Phair - Maid of Honor
Brandy's former college roommate (senior year!). Loves elephants. Favorite color is green.
Lizzy Crepps - Bridesmaid
Brandy's former college roommate (freshman year!). Harvard Law School grad. Definitely a Ravenclaw.
Kimberly Lauer - Bridesmaid
Brandy's former college roommate (sophomore year!). Spongebob lover. Has a Master's Degree in Nursing.
Katie Sorensen - Bridesmaid
Brandy's co-worker at Pacifica Hotels. Marketing extraordinaire. Originally from Nebraska.
Adam Nili - Best Man
Joey's BFF from high school. Had a lot of fun in high school Spanish class. Went to Bali with Joey in August 2016.
Mark Tyler - Groomsman
Joey's friend from work. Lives in Washington DC. Has an awesome dog named Ginger.
Adam Espinoza - Groomsman
Joey's good friend from work. Former kicker for University of Wisconsin. Drives a fancy car.
Jake Durkin - Groomsman
Joey's oldest friend since grade school at Kaiser Elementary in Costa Mesa. Artistic genius.